The program of Apple Breeding Station of the IEB is focused on resistance to diseases, especially scab, the most serious fungal disease of the apple. Growth of trees resistant to apple scab can greatly reduce dozens of chemical sprays during vegetation that are financially and labor-intensive and can adversely affect the environment. In addition to disease resistance, new varieties must meet the requirements for the cultivation properties, particularly fertility and fruit quality, in terms of appearance, taste, firmness and brittleness of the flesh, shelf life and durability during manipulation. Commercially promising varieties of this breeding are grown predominantly in BIO and integrated production, or in domestic gardens.
Our research group represents a connection of a basic research, which is based on molecular methods of identification and genetic analysis of scab resistance, with an applied research in which we use our knowledge to breed resistant apple varieties with a commercial potential.
In the basic research we are mainly interested in elucidating of mechanisms of the Riv6 gene mediated resistance as well the its breakdown by new races of V. inaequalis.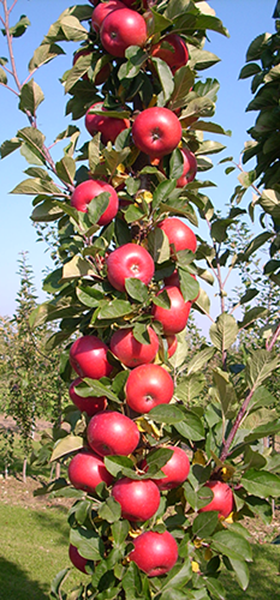 Institute of Experimental Botany focuses on the breeding of apple with columnar growth for more than 20 years. New varieties are resistant to diseases, especially to apple scab (Venturia inaequalis), the most serious disease of apple tree. The advantages of columnar apple varieties are small footprint and minimal hand work (minimal incision, no need for tree support). Promising varieties for commercial cultivation are mainly used for home gardens as an interesting solitaire, for planting in hedges, for the production of juices or as a table variety in intensive apple plantations. Our breeding goal – improving the negative characteristics of the original varieties comming from the McIntosh Wijcik. Around 300 seedlings (=new varieties) are anualy planted, covering about 10 % of the total crossings at IEB.
was the founder of apple breeding at IEB, that he initiated over 50 years ago with a goal to obtain apple cultivars resistant to scab, the most serious fungal disease of apple. During several generations of breeding, he managed not only to significantly increase tolerance to fungal diseases, but also to improve the growth characteristics, especially shelf-life, good flavor and attractive appearance of his newly bred apple varieties. His apple cultivars are now commercionally grown in dozens countries in five continents.